12 Mar

NEW FX Spark ST ensuite caravan has arrived! 

The NEW Great Escape Caravans FX Spark ST ensuite caravan has arrived and is ready to see you travelling our great country this season.

The FX spark is made for comfort with full ensuite and all the luxuries you will need to travel in style. Perfectly suited to those who want the ability to free camp or visit a tourist park while travelling our great country.

The ensuite included in the FX Spark ST includes a ceramic vanity along with a china bowl.  Quality bathroom fittings you would find in any home or hotel while traveling. No detail has been overlooked.

For those of you who love the great outdoors, but love a little luxury this one is for you.  Camping in more remote locations or caravan parks you will not only have the comfort and privacy of your own bathroom you will have every creature comfort of a plush seating/dining area, air conditioning and heating, you also reap the benefits of a full kitchen.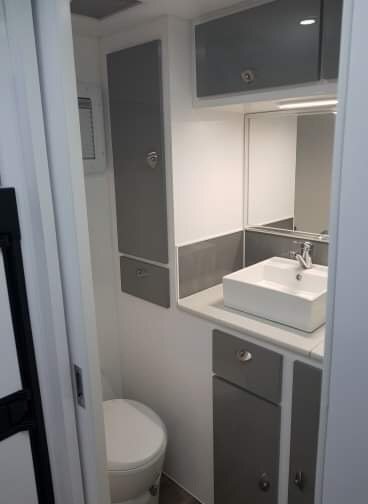 This 18-footer includes an interior your travel buddies will be envious of and it is a caravan the Great Escape Caravan team were excited to launch. 
With a washing machine included as well as the quality fittings to the ensuite, reading lights and full height bed head. You could mistake the FX Spark ST as a spacious, yet compact hotel room on wheels.
This ensuite caravan is one to be looked at, you will not be disappointed. Contact us today! For full features and benefits CLICK HERE